Lane Debate Movie to Premier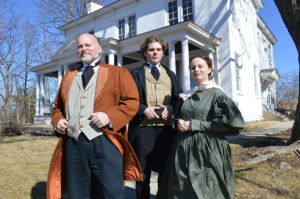 In her lifetime, Earlene Hawley has penned numerous scripts, including biblical plays and historical dramas. But she never dreamed one of her scripts would be made into a movie.
Production is under way on "Sons & Daughters of Thunder," a docudrama being produced by Emmy-nominated filmmakers Kelly and Tammy Rundle of Fourth Wall Films. It is based on a play Hawley wrote in the 1970s that tells the true story of anti-slavery debates at Cincinnati's Ohio Lane Theological Seminary in 1834.
"I've always been interested in history, certainly in the Civil War period of American history and the subject of prejudice," said Earlene Hawley, 84, a long-time Waverly resident. Three years ago, a mutual friend passed the play along to the Rundles. Earlene's husband, Kent, is serving as the film's co-producer.
The play was produced three times in Oregon more than four decades ago, Kent Hawley recalled, but they were surprised by the renewed interest. "We're just very impressed with the filmmakers.  Kelly and Tammy have asked us to come to a shoot in April, and they might put us in as extras."
The Rundles recently returned to their base in the Quad Cities, after filming at the historic Harriet Beecher Stowe House in Cincinnati. Filming at the museum took place 180 years to the day of the debates. The Beecher House is the only remaining structure on what was the seminary grounds.
"It is such a thrill for us, and we are certain for the Hawleys also, to watch Earlene's story come to life in a movie format," said Tammy Rundle. "There is something stunning about seeing 50 actors dressed in period costume take their places in beautiful historic sites from the 1800s. You immediately feel transported in time."
Kelly Rundle describes it as a "fairly complex story about the beginning of the end of slavery in America. What happened at the seminary is an obscure but important turning point in American history."
In 1834, the controversial debates, led by abolitionist and firebrand Theodore Weld (played by actor Thomas Alan Taylor), were the first to publicly discuss the end of slavery in America. The meetings angered Cincinnati residents and Lane Seminary officials, who promptly slapped a gag order on the entire student body. This action was followed by a freedom of speech protest and mass exodus of Lane students to Oberlin College.
A young Harriet Beecher (played by acclaimed stage actress Jess Denney) was exposed to the debates and Weld's work to free the slaves, sparking a flame that led her to write "Uncle Tom's Cabin."
Shooting at the Beecher house was an incredible experience, Kelly acknowledged.
"We were standing there in Lyman Beecher's office with Janos Horvath who plays Beecher and Taylor who plays Weld, right where those people actually stood 180 years ago. It was surreal. These were people of faith disagreeing about this issue, and the reaction in the city was close to mob violence."
The film also will feature historic sites in Iowa, Illinois and Connecticut. The most recent debate scenes shot in the historic Jenny Lind Chapel in Andover, Ill., featured nearly 40 extras, including Renee Roiseland of Waverly.
"I had a wonderful time participating in the making of the film. The cast and crew were phenomenal to work with," said Roiseland.
Hawley's script underwent some changes, in particular making young Harriet Beecher the main female character rather than her sister Catherine, an author and teacher who also influenced Harriet.
In addition, the Rundles added a prologue and epilogue featuring Frederick Douglass' famous Fourth of July speech from the 1850s.
"Thematically it's beautifully connected to our story. When we showed the first draft to Earlene, she told us that she first started her research for a play on Frederick Douglass. She gave up on the Douglass idea, but that research led her to the Lane Rebels story," Kelly Rundle explained.
The Rundles are well-known for making documentaries, including "Villisca: Living with a Mystery," "Lost Nation: The Ioway," the Emmy-nominated "Country School: One Room – One Nation," and "Jean
Making a docudrama represents a departure for Fourth Wall Films.
"We've gone from two people used to working by themselves to 60 cast and crew members. We made the decision to go in this direction because the story had already been dramatized. I'm continually impressed by Earline's work," Kelly said.
Principal photography continues through July. The film is slated for release in 2015 and will screen in independent theaters and film festivals. It will be released nationally on DVD, with broadcasts on PBS stations to follow. Tentatively, film premieres are planned in the Quad Cities and Cincinnati.