The Grant brothers were sons of Alanson Grant, Sr. They were cousins to President Hiram Ulysses Grant, all having been descended from one Matthew Grant who arrived in Boston Harbor from England on May 30, 1630. Deliverance Grant Cary Strong, mother of Christopher and William Cary and John and Zebulon Strong was their great aunt, their father Alanson Sr. being the son of Benjamin, Deliverance's brother.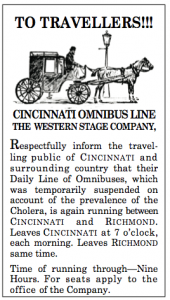 Alanson (1804-1880) and Josiah (1808-1891) were born in Lyme, Grafton Co., New Hampshire, coming to Ohio as young men. From 1837-1838 Alanson was the postmaster of Pleasant Hill (College Hill). The 1840 census shows him living there with his family and with many young men residing there, probably boarders from Cary's Academy.
By 1850 Alanson had moved on to Mt. Healthy, Springfield Township and was the owner of an omnibus. He was still associated with omnibuses in 1863 as he was involved in a lawsuit against a Cincinnati omnibus manufacturer. In 1857 he was still an omnibus proprietor. By 1870 he had moved on to Middlefork Twp., Vermilion Co., Illinois and describes himself as a retired farmer in the census. He died Dec. 19, 1880 in Rossville, Illinois. He was an elder in the Presbyterian Church.
Josiah Grant moved to Mount Pleasantl (Mt. Healthy).  In 1842 he announced that his Mt. Pleasant Hotel was a "Temperance Hotel" in The Philanthropist, an abolitionist newspaper published by  (at this time) Gamaliel Bailey.  Grant moved to College Hill by 1850, as he lived next door to Zebulon Strong in the 1850 census and he too had many young male boarders from Farmers' College.  At that time he described himself as a merchant, and from July 1850 to June 1852 he was the College Hill postmaster. He also was an architect and builder, along with being an elder in the Presbyterian Church.  Josiah followed his brother to Rossville, Illinois and after Alanson's death, he moved to Huron, South Dakota, where he died on Oct. 13, 1891.
In Harriet Wilson's letter to Professor Wilbur Siebert  she refers to a well known house of "Mr. G." I think that this is either of the Grant brothers. Both were involved with delivering and sending mail which allowed them a reason to be traveling from place to place, and with omnibus' which could have been used for hiding and moving  freedom seekers. Their affiliation with the Presbyterian Church and their close family ties to the Strongs and Carys point to the possibility of their being active participants in the work of the Underground Railroad.