Rev. Richard DeBaptiste and Mt. Healthy's Black Community
Mt. Healthy, Hamilton County, Ohio was home to a thriving community of African Americans prior to the Civil War. The 1860 census records 230 people of color in the Mt. Healthy post office portion of Springfield Twp, comprising 50+ families. These were people born in all of the slave states of the South.  Some families had children born in the south, and then younger children born in Ohio. This indicates that they weren't just passing through on their way to Canada, but rather were settled residents.  The census numbers hint at poignant stories:  elderly parents born in Virginia, and extended family born in the cotton states of the deep south. How they made their way here would fill volumes with powerful stories. We can only guess at how, and why Mt. Healthy, since this part of our history has not been preserved.
There were skilled men in this community: no less than 9 men whose occupation was work on steamboats, a blacksmith, a plasterer, an engineer,  and a number families whose property values were substantial – a sprinkling of affluent farmers. The landscape painter Robert Duncanson lived for a time with a wealthy Black farmer, Reuben Graham, and marrying into that family before moving on to Cincinnati to pursue his artistic career.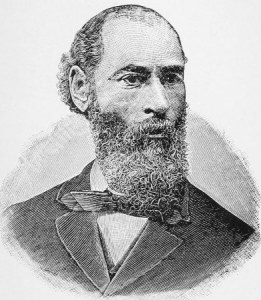 One notable member of this community in 1860 was the Rev. Richard DeBaptiste (1831-1901), the Baptist minister and teacher who later in life was considered one of the most important Black church leaders of his time. He taught school here in Mt. Healthy, supported his family by his trade as a plasterer (recorded in the census) and by request of Baptist members of the community, he was ordained as a Baptist minister to serve Mt. Healthy.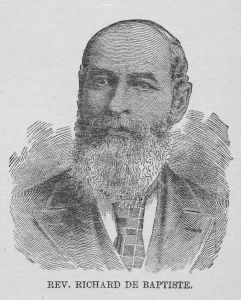 DeBaptiste's presence in Mt. Healthy is a reason for pride. He was from a prosperous free Black family in Fredericksburg, Virginia. One of his grandfathers fought in the Revolutionary War. An uncle served in the War of 1812. Richard's father courageously resisted Virginia laws that made it illegal for people of color to receive an education, by secretly providing schooling for black youth in his own home. The anti-Black atmosphere in Virginia became so repressive that the DeBaptistes, along with a group other free Black families, migrated to Detroit around 1840. (from Carter Woodson, A Century of Negro Migration, 1918) Richard took his secondary education with the Quaker abolitionist Richard Dillingham (1823-1850), who died in prison for aiding fugitives from slavery. He also studied with Samuel H. Davis (1810-1907), a minister of the Second Baptist Church in Detroit. The Rev. Davis was also a leader in Underground Railroad work, and with the resettlement of fugitives in the Dawn settlement in Ontario, Canada.
Richard's relative (uncle or cousin?) George DeBaptiste (ca.1815-1875), famous for his Underground Railroad work, may have been responsible for bringing Richard to Cincinnati – we don't know.  George and his wife Lucinda appear in the church rolls of Union Baptist Church in Cincinnati in the early 1830s. George conducted Underground Railroad work in the river town of Madison, Indiana from around 1838-1846, and from there moved to Detroit where he not only was renowned for moving freedom seekers north to Canada, but famously met with the abolitionist John Brown.
Cincinnati's Union Baptist Church, located in downtown Cincinnati, the earliest Cincinnati Black church of that denomination (organized 1831), was active in anti-slavery work and the Underground Railroad. The church records indicate that Mt. Healthy members of that church requested in 1860 that Richard be ordained as a minister for a new Mt. Healthy congregation.
A committee of two Black and two White Baptist churches jointly ordained DeBaptiste in a ceremony held in Mt. Healthy in April 1860. From here, DeBaptiste moved in 1863 to Chicago to lead the Olivet Baptist Church and to be a pioneer in the development of the Baptist denomination. He is included in numerous books and articles that list African Americans of note.
Historians assert that African American churches in the era of slavery were hubs for local Underground Railroad activity. "…Almost every Negro minister was otherwise engaged in spiriting away fugitives from the slaveholding States through the North into Canada. They were in touch with men in other centers, found out what was going on, learned what was the trend of things, and planned to act accordingly. (Carter Woodson, The History of the Negro Church, 1921, p. 170) The Black Underground Railroad history has yet to be told.
This is just one tidbit in the as-yet hidden Black history in Mt. Healthy in the pre-Civil War era. How do we reconstruct and restore this rich history to its rightful place in our history? Arlette Merritt, descendant of freed slave Anthony Nelson, preserves the oral history of her ancestors. Are there families around the country, descendants of other early residents, who have also preserved some oral history of this time? Will more pieces of this interesting puzzle be discovered?